Duel Commander @DeTafelridder Leiden
sat07mar11:30sat17:00Duel Commander @DeTafelridder LeidenFormatCommanderRules Enforcement LevelRegular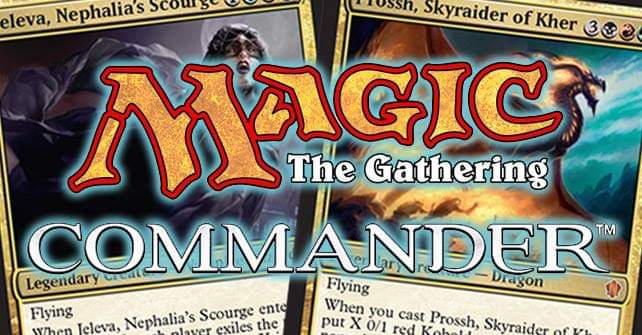 Event Details

Inschrijven: 11.30 uur
Begin toernooi: 12.00 uur
Inschrijfgeld: € 7,-
Price support: 2 booster per speler in de prijzenpot (Ranked Payout)

Banned list (oude mtgo banlist): (Het zijn twee lijstjes)
Ancestral Recall
Back to Basics
Balance
Baral, Chief of Compliance
Black Lotus
Braids, Cabal Minion
Channel
Derevi, Empyrial Tactician
Doomsday
Edgar Markov
Edric, Spymaster of Trest
Emrakul, the Aeons Torn
Erayo, Soratami Ascendant
Fastbond
Food Chain
Gifts Ungiven
Hermit Druid
Humility
Karakas
Library of Alexandria
Mind Twist
Moat
Mox Emerald
Mox Jet
Mox Pearl
Mox Ruby
Mox Sapphire
Natural Order
Oath of Druids
Rofellos, Llanowar Emissary
Strip Mine
Sensei's Divining Top
Serra Ascendant
Survival of the Fittest
Sylvan Library
The Tabernacle at Pendrell Vale
Time Vault
Time Walk
Tinker
Tolarian Academy
Winter Orb
Zur the Enchanter

Ancient Tomb
Brainstorm
Chrome Mox
Demonic Tutor
Dig Through Time
Enlightened Tutor
Entomb
Gaea's Cradle
Imperial Seal
Mana Crypt
Mana Drain
Mana Vault
Mox Diamond
Mystical Tutor
Necropotence
Ponder
Preordain
Sol Ring
Sylvan Tutor
Treachery
Treasure Cruise
Vampiric Tutor
Vial Smasher the Fierce
Worldly Tutor
Yawgmoth's Bargain

We spelen dus met de mtgo regels, de banlist is hierboven te vinden, verder is het goed te weten dat we best of 3 spelen met een iets royalere tijd en zonder sideboard. Ook gebruiken we een starting life total van 30 en is de eerste mulligan gratis. Tot slot kan je ten alle tijden maar 1 kaart in je command zone hebben liggen (eg je kan niet 2 partner-commanders tegelijk als commander gebruiken)

– In de winkel mogen geen eigen consumpties genuttigd worden. Er zijn candybars, warme broodjes en drinken aanwezig tegen redelijke prijzen.
Time

(Saturday) 11:30 - 17:00
Location

De Tafelridder, Leiden

Oude Herengracht 11A, 2312LN Leiden