fri15mar19:3023:30Signup endedBattlebond 2HG Sealed – ZaandamHet Element, ZaandamFormat:Sealed,Two-Headed GiantRules Enforcement Level:Casual
Event Details

Deelname: 10 euro (voor 3 boosters en prize support)

Pinnen is mogelijk.

Elk Team van 2 spelers krijgt 6 Boosters om 2 Decks van 40 kaarten van te bouwen.

Daarna spelen we 3 rondes "Best of 1". Ieder team speelt 1x tegen elk ander team.

Per ronde die gewonnen wordt wint het team 1 Booster pack.

Er wordt gespeeld volgens de Two-Headed Giant regels.




Zilverschoonplein 18 is de winkel tegenover de Dekamarkt op het Zilverschoonplein in Kogerveld, op 5 minuten lopen vanaf NS station Zaandam Kogerveld. De winkel heeft rondom gratis parkeren.




Max. 8 spelers (we doen naast deze Sealed op vrijdagavond ook een Ravnica Allegiance Draft voor 16 spelers)

Dit Event gaat alleen door bij deelname van minimaal 4 Teams (8 spelers)

Dit Sealed toernooi in niet sanctioned.
RSVP to event
RSVPing is closed at this time.
Please let us know if you can make it to the event.
7rsvpsNeeded for the event to happen
Can not make it to this event?Change my RSVP
Organizer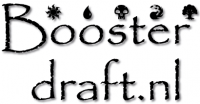 Time

(Friday) 19:30 - 23:30
Location

Het Element, Zaandam

Zilverschoonplein 18, 1508 CK Zaandam