wed07sep19:3022:30Signup endedDe Magic: the Gathering Pub Quiz @ 2 Klaveren, AmsterdamAmsterdam Casual EDH presenteert een quiz voor teams over het grootste ruilkaartspel, in samenwerking met Spelletjescafe 2 Klaveren en Manamaze.2 Klaveren, AmsterdamFormat:Limited,Draft,Sealed,Two-Headed Giant,Cube,Constructed,Standard,Pioneer,Modern,Legacy,Vintage,Old School,Pauper,Constructed (singleton),Commander,BrawlRules Enforcement Level:Casual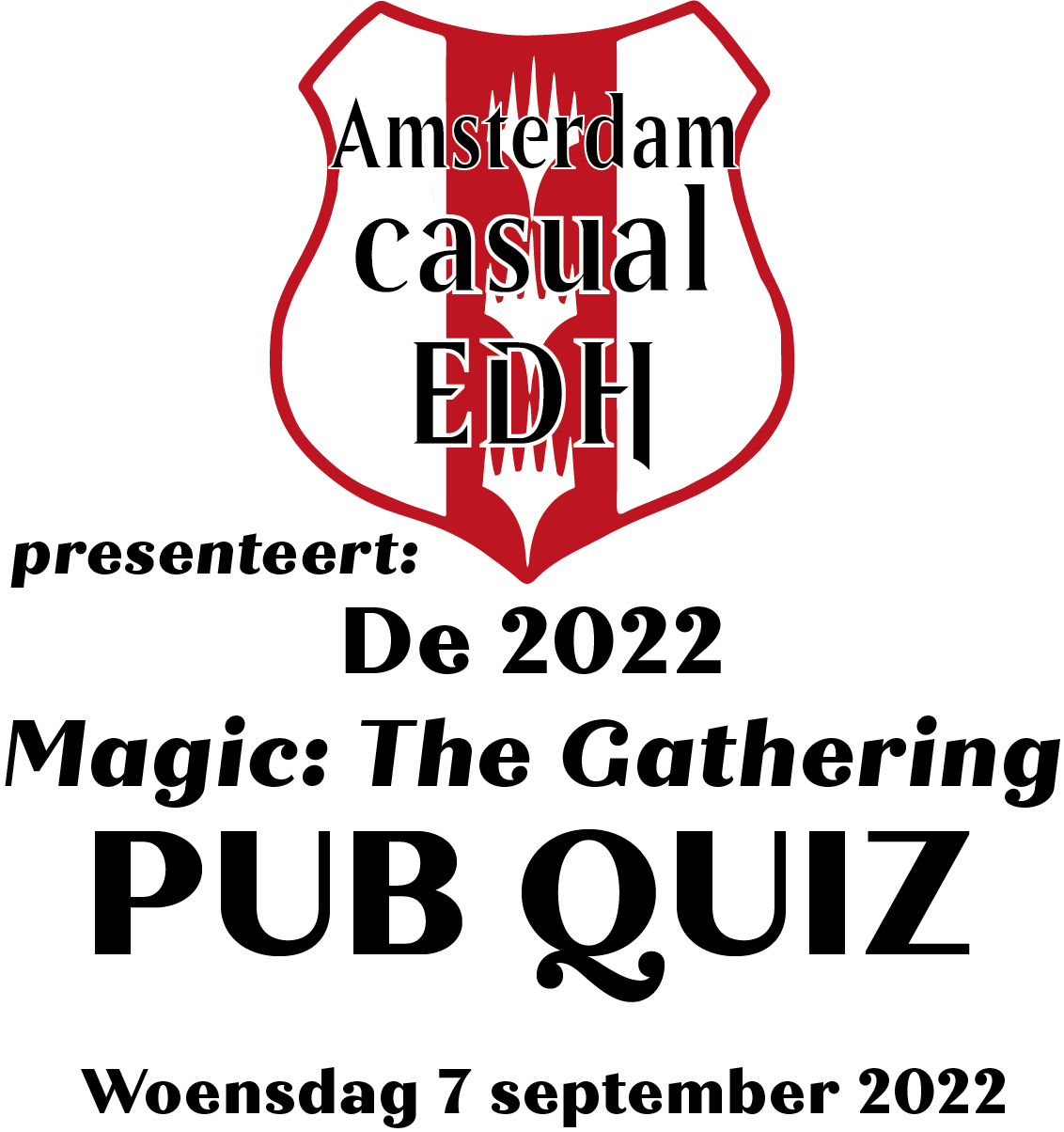 Event Details

Kom voor de gezelligheid en win misschien een kleine prijs met je kennis over kaarten en regels…
Datum: Woensdag 7 september 2022
Tijd: 19:30 – 22:30
Locatie: Spelletjescafé 2 Klaveren, De Clercqstraat 136, 1052 NP, Amsterdam
Kosten: 5 euro per deelnemer
Quizmaster: Jimmy Dücker
Admin & Jury: Sérgio Samson
Beste Magicers,
Het is in september 2022 een jaar geleden dat de eerste officiële Commander Woensdagavond bij 2 Klaveren werd georganiseerd. Om het te vieren houden we op woensdag 7 september een Pub Quiz. Je zult vragen krijgen over de meest uiteenlopende onderwerpen, allemaal Magic gerelateerd. Er zullen een paar kleine prijzen zijn om te verdelen, maar het gaat bovenal om het delen van kennis en ervaringen van een gezamenlijke hobby en natuurlijk een gezellige avond.
De avond zal er als volgt uitzien:
18:00 – 19:30 Tijd om te ruilen en te eten, of eventueel een potje te kaarten
19:30 – 19:50 Aanwezig voor deelname aan de quiz
20:00 – 22:00 De eerste Amsterdamse Magic: the Gathering Pub Quiz
22:00 – 22:30 Prijsuitreiking
2 Klaveren is een gezellig café en om het gezellig te houden zijn deelnemers ook verplicht om tenminste twee consumpties te bestellen.
Aanmelden gaat via Untap.nl (RSVP). Je krijgt dan een bevestiging en een betaallink (Tikkie) toegestuurd. Inschrijving is pas gegarandeerd als de betaling is ontvangen. Wanneer er meer dan 52 aanmeldingen zijn kom je op de wachtlijst. Je krijgt dan drie dagen voor het evenement bericht of je kunt deelnemen.
De vragen zullen zowel in het Nederlands als in het Engels beschikbaar zijn.
---
Dear Magicers,
In September 2022 it'll be a year since the first official Commander Wednesday was held at 2 Klaveren . To celebrate this occasion, we'll be hosting a Magic: the Gathering Pub Quiz for teams. There will be a couple of prizes available, but this evening sharing your experiences and knowledge will be key, and of course having a fun evening with likeminded people.
The evening will be as follows:
18:00 – 19:30 Time to trade and eat, and maybe play a game
19:30 – 19:50 Participants enter
20:00 – 22:00 The first Amsterdam Magic: the Gathering Pub Quiz
22:00 – 22:30 Scores & prizes
2 Klaveren is a cosy café and to keep it that way, participants should order at least two consumptions each.
Participate by using the RSVP function on Untap.nl. You will receive a payment link (Tikkie) by e-mail. Participation is only guaranteed after payment is received. If there are more than 52 admissions, you will be put on a waitlist. You'll receive a message three days before the start of the event to participate.
The questions will be available in Dutch and English.
Organizer
Amsterdam Casual EDHs.m.samson@3x7.nl
Time

(Wednesday) 19:30 - 22:30
RSVP Now
RSVPing is closed at this time.
Can not make it to this event?Change my RSVP